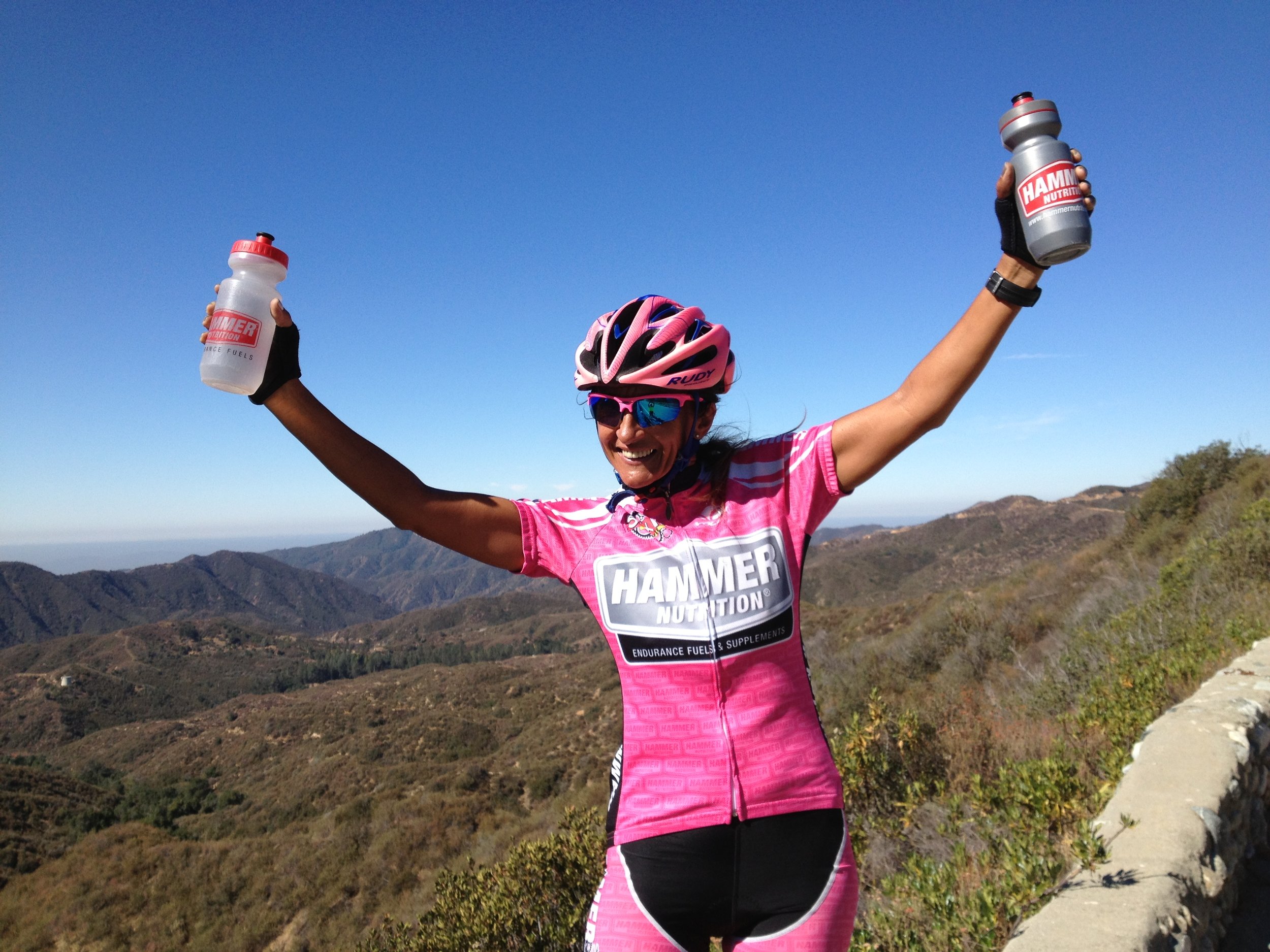 Triathlons – Scuba Diving – Coaching
Chances are if you are reading this web site you are interested in Scuba Diving or Triathlons! For me both these activities are very important in my life! I have been a PADI Instructor since 1991, and a Triathlete and Multi sport athlete since 1993. In 2007 I took the plunge and married a Californian born and raised guy by the name of Al, who is now Divemaster! It is great to spend a weekend scuba diving with my husband and enjoy each other's company at 60 feet! I am also a RRCA Running Coach, a US Masters Swim coach, an Adult swim Coach and also I am the Head Coach for a high school swim team.
In 1990 I decided to travel the world and did my first Scuba Dive in the Maldives in the Indian Ocean! I was totally mesmerized by the turtles, sharks and aquatic life I experienced and it was not long after I became a PADI Instructor. I used my skills as a chef to get jobs on live aboard dive boats and have dived the Great Barrier Reef, Fiji, Hawaii, Bali, Maldives, Cayman Islands, Turks and Caicos, Puerto Rico, Mexico, Lanzarote, Honduras, Aruba, Philippines, Dominica Republic, Haiti, England and now my playground is in Southern California were I frequently dive Laguna Beach, Divers Cove, Corona Del Mar and Catalina Island. Scuba Diving opened up a whole new world for me and I can say I have seen some amazing things that I would never have seen had I not been scuba diving!
Can you say you have seen a Triton Trumpet turn its self-inside out to eat a Crown of Thorns Star fish? Or a brittle star fish release 1000s of eggs into the ocean! Experiencing a huge Whale Shark or just simple looking for small critters such as a nudibranch to photograph all adds to the fun. I hope that as you navigate through my web site you will find a scuba course to challenge you!
After the thousands of logged dives, I have around the world there is something to be said about Californian Diving, KELP that seems to be the key ingredient! The first time I dived in Kelp it was life altering! Let me explain, picture yourself looking up to the Red wood canopies think of the sunlight filtering through now that same picture is at 40 feet and as you look up rays of sunshine pass through the golden Kelp, if you look closer you begin to see kelp fish mimics' the kelp, then an orange sea snail hanging out on a branch, soon you begin to see Sheep head, lobsters, nudibranch and a variety of life which makes you decided to purchase that underwater digital camera so you can show your non diving friends! California has lots of colorful diving and plenty of dives to keep any avid diver busy! If you can dive in these cooler waters you can dive anywhere in the world!
Our shore dives can be challenging to easy, boat diving is by far the easiest way to dive especially in remote dive sites, difficult to get without a boat! California has shipwrecks and lots of them! visiting Wreck Alley can be very rewarding and diving the YUKON can be very humbling! The state fish the Garibaldi is a bright orange inquisitive fish, its juveniles have small iridescent blue spots! I could keep on singing accolades about the diving, but would be even better for you the person reading this site to see for yourselves the beauty of the Underwater world!
There is also a section on my career as an Ultra Distance Triathlete one which I personally have pursued since 1993, I have travelled all over the world competing in these events and sometimes manage to pack my scuba gear around my bike! For 13 years I resided in a small village called Boqueron in Puerto Rico if I was not scuba diving in La Parguera I was swimming, biking or running and was in 1999 the Puerto Rican National Triathlon Champion! The two passions go hand in hand as I love teaching and love triathlons! The Tris can be as hard as you make them like wise Scuba diving, you can and will have fun at both activities the more you learn the more enjoyable both are!