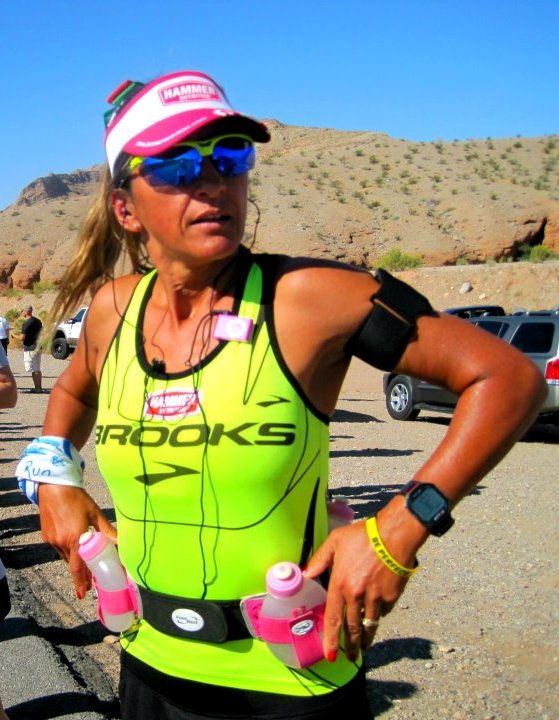 Also in April I was asked to answer some questions from GOTRIBAL
GOTRIbal empowers, engages and excites women through the journey of endurance sports, and offers members the connections, mentorships and resources to realize their toughest goals. Whether those be ON or OFF the race course, in or out of the gym — it doesn't matter.
GOTRIbal's members will collectively impact the health epidemic of obesity in America and through their healthy, active lifestyles turn the tide on deaths resulting from low cardiac fitness.
GOTRIbal chatted with Suzy Degazon about her entrée into endurance sport, her struggle with an eating disorder, and how she continues to learn and give back through her activities as a sponsored athlete.
GT: What was the turning point for you when you decided to give multisport a try?
Suzy: I had left England and due to a variety of events that life laid out, found myself on the shores of Boqueron, Puerto Rico. It was a quiet fishing village back then in 1993 and I liked to run a lot on the beach. In the April of that year I entered a local 10km run, as I loved to run! I also had a simple ladies 3-speed back-brake bike I used to ride around on and I enjoyed swimming a lot in the Bay of Boqueron.
I was seen by a woman, Yetta, who told me her husband did triathlons and asked if I was a triathlete. Our conversation led me to sign up for the Vega Baja Triathlon in April. After running a 10km once, a running coach approached me after the race and told me he saw potential in me as a runner. I told him I was going to be a triathlete, which prompted him to point to my bike and ask if I was going to be using 'that' as my bike.
After saying "yes!" he helped me select running shoes and shorts and introduced me to a good friend of his Julio Montalvo who had been a fantastic cyclist. Somehow I came away with a brand new borrowed Raul Mesa bicycle!
I did that triathlon in April and had a blast. I took a "public", think Puerto Rican taxi, and half way on the ride met a family of triathletes who took me to Vega Baja. I stayed the night in school dorm, ate a snicker bar while I tried to work out how to shift into different gears while taking the water bottle in and out of the cage while moving! The next day I did the triathlon in a yellow bodyglove suit [which went completely see-through when wet]. After the 1.5km swim I had no problem finding my bike as it was all alone in transition. I took off for 40km, then ran a solid 8km and ended up placing first in my age group and won my taxi cab fare back!
I made new friends who took me back to Boqueron and from that, I was hooked. It was just an awesome experience.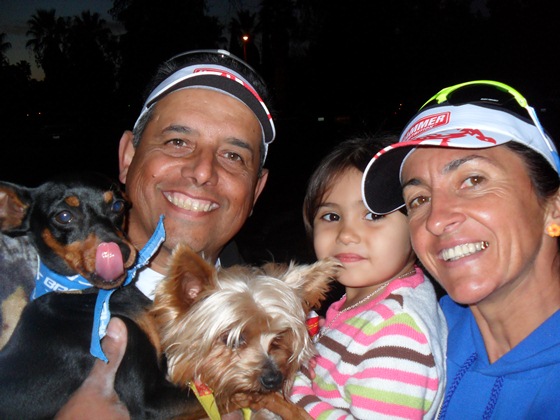 GT: What kinds of new nutritional and fueling practices do you find helpful now as you train for such long distance events?
When I first started doing tris and other endurance sport in 1993 I did not really understand sport nutrition — it was just "I need to eat!" After a few years I soon realized that there was more to tris than swim bike and run there was good nutrition and mental games to add too. While I love bread and bagels, I find on race mornings a Hammer Gel at the beginning of the race will get me through the swim, as I eat a good pre-race meal the night before and do not want to get up 3 hours before the race to eat again! I would rather sleep! If the weather is hot I keep to a liquid intake usually Perpetuem, and Hammer gels, I supplement with endurolytes, anti-fatigue caps and endurance amino, On ultra runs when I feel that I need more I usually can get by on a Hammer bar and also like sweet potatoes boiled. If my event goes through the night I like hot mashed potatoes, plain pasta with a little cheese! I think it is really important to eat healthy all the time, I just gave up diet coke and sodas in 2011, it was difficult but glad I did my food tastes better and I actually became leaner drinking good old fashioned water. I do love dark chocolate but as a reward after the race. It is very important to train with what you race. When I race marathons etc. I am self-contained. As far as my nutrition is concerned I will carry my own Hammer products and only rely on water from the aid stations. We are all different and I've just figured out what works for me.
GT: What have you learned to do to quell your previous beliefs about food and your need for control in an effort to lead this new lifestyle in sport?
I just did not eat – I did not want to lose control, and then I did not want to gain weight. I feared getting fat, yet here was a sport which required energy and the reward was being able to eat. If I did not eat enough I did not have enough energy to see me through the event. I loved to train and so what happened was I traded one compulsion for another; swim bike run and eat !
GT: Can you share some favorite foods that you make or eat regularly?
I am a vegetarian and have been since I was 17 years old, so I do not eat any meat, fish or poultry but do eat diary produce although I am not a great lover of milk. My favorite food is Pizza and yes I do have a favorite brand — I love Domino's pizza with mushrooms and pineapple and their cheesy garlic bread! Probably not the best food but I crave this pizza after a hard marathon or ultra-run and love it as a pre-race food too! I love Mexican food too, re fried beans, guacamole and salsa. I also am a big lover of cous cous and quinoa. I am a trained chef and a professional pastry chef. I LOVE to cook. I really enjoy making pasta dishes, love making salads with spinach, almonds, scallions, cucumber, carrot, tomatoes and balsamic vinegar. I would rather make my own home-made cookies than buy store bought ones. Raisin, chocolate chip and oat meal are my favorites and also like making caramel slices! I make ALL the special occasion cakes for the family too.
GT: The psychological issues surrounding body image tend to be more female-based, so how do you see sports like running or triathlon helping (rather than hurting) women who play in these sports?
I think that sports such as running and triathlons empower women to feel better about themselves; we get such a great sense of achievement in toeing at the start line and finishing is the icing on the cake. I think women feel better when they have exercised; we get such a healthy glow and renewed energy. Body image should be something we feel, we should feel strong, beautiful and healthy ready to take on any challenges life gives out to us.
GT: What kind of support systems did you find the most valuable and do you still depend on those? Or how has it changed?
When I was sick my support system was my doctors and my grandparents. I adored my grandparents. My grand dad would visit me every day if I was allowed a visitor. Family and friends were a good source of support, but until I admitted I needed help and needed to change I was not going to get better! I still have issues with my self- confidence and my husband who I met in Dec 2005 and married in 2007 is my best friend and is always there to help me and guide me, give me confidence and stability. He is my most VALUABLE confidante.
GT: How are you Paying Your Knowledge Forward as gifts to other women who are afraid or embarrassed to share this with their friends or family?
I am not afraid to share my past and do a lot of guest speaking at various different venues. I also will stop and help any one who I think needs a smile in there day. Sometimes I forget what kind of world we live in and I will be on a run and smile at every one and say nice day, I get some odd looks but over time people get used to seeing me out there smiling and giving high fives in my day! I am always there for women who have eating disorders and have mentored many women with Anorexia and a few men too. Life is way too precious not to give back…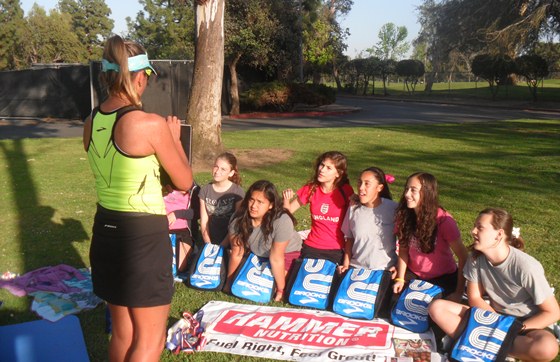 GT: What thoughts would you like to offer for those who read this and are looking for women to connect with who are athletes, as well?
We only have one life so live it as if it was your last day every day. Do not be fooled we all have problems, it is just how we cope with them….Always smile when you feel blue it will lift your spirit, always try to brighten someone's day could be as simple as giving a compliment…
For an indepth chat with Suzy about her ability to overcome her battle with anorexia nervosa, read here:
GOTRIbal connects and empowers women with the people, tools and resources to serve them in maintaining their active, healthy endurance sports lifestyles. MAY 4, 2012