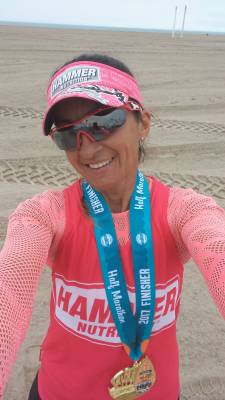 In February I had signed up for the second in a series of three Marathons … I was a little afraid of doing the full marathon due to my injury on my achilles tendon so down graded to a half marathon.. I was at Surf City… the same event I really hurt my self on a year ago….
Last year I ran in honor of a special friend who had past away and one of my mentors for Triathlon Bouke Bendien.
My race went pretty much as planned to keep movong forward with a smile ….to stop every mile and stretch out my calf and finish in under two hours… every thing was ticked off and I managed to walk to the car from the finish line. I was pleased with my race although slower than usual I was pretty happy to be running again and ticked off the second 13.1 miler two down and one to go aint to bad a deal.
After the race I made sure to recover with Chocolate Recoverite and headed home to a Super Bowl Party. A BIG thanks to Hammer Nutrition for fueling my body to reach the finish line and to Polar USA for monitoring my training and pacing. and to Rudy Project for making me look fast and to Brooks Running for letting me run happy!!