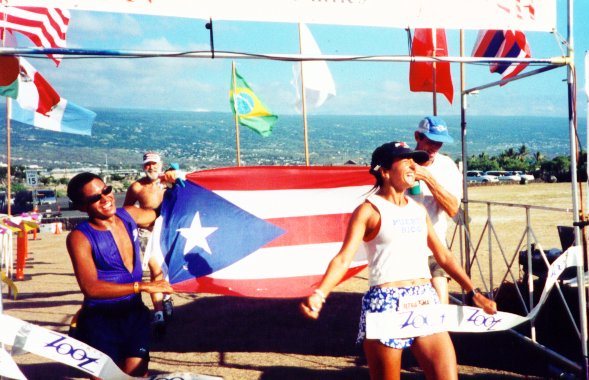 In 1997 I finished in third place the Defi De Mondial a Triple Iron distance race in France, it took me 51 hours and 40 minutes! At the award ceremony I could hardly walk to the podium to accept my flowers and award! As I was leaving Eric Seedhouse suggested I look up Ultraman Hawaii saying that he believed that was the best endurance race! So in 1998 I found myself qualifying for the Ultraman World Championships due to my Triple iron races and Ironman races…I was heading to Hawaii and had not a clue that this would be a turning point in my life.
On my first Ultraman I was definitely humbled that 6.2 mile swim was one of the hardest things I had ever pushed my body through followed by a gruelling 90 mile bike ride to the Volcano House! I barely made the cutoff but finish I did! My crew were great from Bike Works I was a stubborn athlete and on Day 2 my crew set down the law and I covered the 171 mile bike with the 5th fastest ever bike split! Only one day left and I had been told to run the first 26.2 miles easy and the last 26.2 miles should be possible. I ran way to fast the first marathon and almost hobbled and shuffled the last 10 miles the finish chute was truly a blessing and I had finished.
Since that 1998 race I have returned to Kona every year to compete in Ultraman which I fondly refer to as Ultrawoman. I have experienced every type of climatic condition possible on the island of Hawaii, have learnt the meaning of Ohana, Kokua and Aloha, and made many good life long friends on the island. Without the local people it would not have been possible to continue returning year after year and I hope to capture my Hawaiian adventures and experiences on these pages. Over the next few weeks I hope to include race reports, photos and news clippings from Ultrawoman! Not forgetting to thank and remember all the friends I have made, and adventures I have had.
Every time I go to Hawaii I meet different people who change my life in different ways. In 2010 I was lucky enough to see Karlyn Pipes Neilsen an amazing Master swimmer and coach I would also like to call her a friend and she helped me out with a swim lesson before the 2010 Ultraman. Here is a clip from that lesson..
SWIM LESSON WITH SUZY DEGAZON 11/20/2010 [HD]
by Karlyn Pipes-Neilsen (videos)
0:54
Ultra-athlete and AMAZING woman..Suzy Degazon gets a stroke tune-up six days before the Ultraman on the Big Island of Hawaii. "New" stroke is first, then a brief re-visit to her "old" stroke, then back to "new." Great working with you Suzy and good luck! http://suzydegazon.com/
I have been blessed to have toed the line at the Ultraman Hawaii World Championships 15 years in a row, I have officially finished 12 of them and won my age group 5 times. I have loved and embraced this event, it became a life style and forever blessed to have been and be part of the Ultraman Ohana.
Ultraman YouTube clips
Suzy earns $2400 for cancer during the 3 Day 320 mile 2005 Ultraman Championship…
Suzy finishes her 10th Ultraman in 2007 and earns 16K for cancer…
Ultraman Hawaii is the best 3 day stage race I have ever done. It will challenge the best of us. there is no guarantee as you look out at the ocean on Friday morning, watching the sun peep over the volcano that you are going to finish the 320 mile circumnavigation of the Big Island via swimming, cycling and running, there are chances of rain, fog, intense heat, low visibility, cold and wind! As you gaze into the horizon the body is ready! eager to go…. by Day 3 the only thing on your mind will be finishing 52.4miles of running from Hawi to Kona, yet when you pass that finish line a certain sense of achievement and more importantly a sense of belonging will take over as you become a member of the Ultraman family that sense of Aloha, Kokua and Ohana!
"Ultraman will be an experience like no ironman will ever give you. It will humble you and make you stronger, and it will be mentally challenging as well as physically demanding"
Suzy Degazon (The Good Life )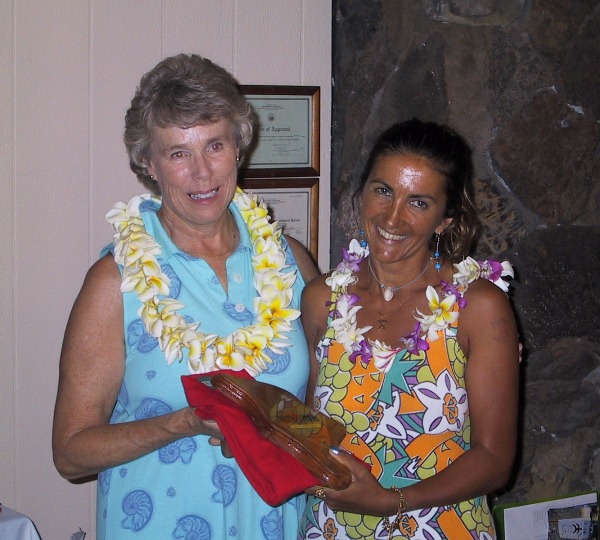 Here is a link to my 12th Ultraman Hawaii report by xtri.com http://www.facebook.com/l/29153;www.xtri.com/features_display.aspx?riIDReport=6130&CAT=3&
2010
It is May 9th 2010, I am sending off my Ultraman Application tomorrow, it is quite expensive this year, I am guessing due to the fact it is 5 weeks after the Ironman in Kona it is hard to find money sponsors for the Ultraman to cover the permit costs etc.. this is a shame as I personally think that Ultraman is worth sponsoring and that it brings triathlons back to its grass roots. I love the format and the challenging course it offers. This year will be my 13th year towing the line at dig me beach bracing my self for that 6.2mile Ocean swim!!
2009
At first I thought I would not be able to make the 25th Anniversary of Ultra man Hawaii as I am under going treatment for my teeth at Loma Linda school of Dentistry and by the time they finish not only will I have a sexy smile and great looking choppers, but I will own 14 crowns, 4 root canals and a bridge not to mention all new fillings! Al did not think we could cover the cost of the trip and dental work. That is when Ocean Potion came in to the picture and AVON of Puerto Rico. My friend Chuck for his hospitality and friendship and Mark of Cannondale with my husband for a spanking new Cannondale 2010 edition synapse! So now I have 4 weeks to learn how to swim 6.2miles again! thinking a few more long runs and a few more long bike rides nothing over 70 miles though and I should be able to get through my 12th Ultraman Hawaii. Going to wear my Brooks Ravenna shoes as they worked just fine in the Long Beach Marathon! My new bike is awesome and climbs really well, it is a 48cm compared to a 51 I was riding before and is very comfortable. Hammer Nutrition sent me new clothing and plenty of fuel to get me through the event! I am truly blessed to have the friends and sponsors I have. Everyone has helped with products and advice.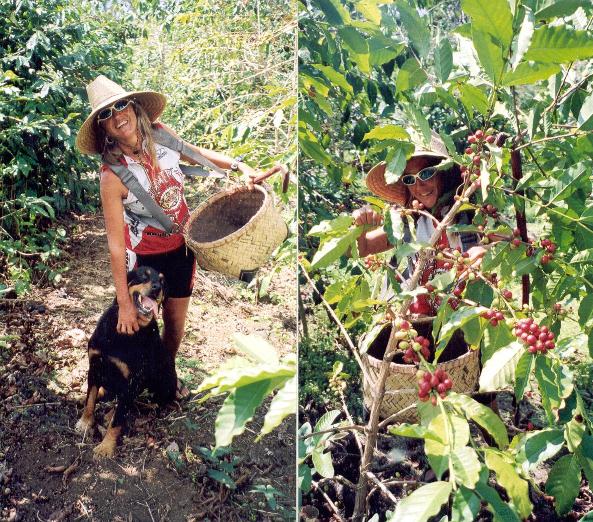 These photos were actually taken in 2003 at my Kayakers(Raffa) coffee place I did not get manys cherry beans picked!! But I sure love the coffee.
Wake Up and Smell the Coffee!
By Suzy Degazon
11/27/2002
xtri.com ultra distance correspondent, Suzy Degazon, is in Hawaii to take part in the annual gut-fest of triathlon, the Ultraman. Suzy has been on the Big Island training for the last few weeks … here are some of her adventures as she builds up to a long, long weekend …
October 31

Tonight is Halloween and I traded my Aegis bike for a broomstick, got candy for my hammergel, a cloak for the iron Caribbean uniform and Hawaiian tropic for green make up! Since arriving in Kona on Monday, I've been finding my feet. On Tuesday i did an awesome 10 mile run (did not anticipate the gradient) and also a good swim in the bay. On Wednesday I did a 321 swim class in the morning. The coach, Steve, just came back from New Zealand were he set two new world records in masters! He is an awesome guy and is coaching my non existent swim style for the ultra.

After the class I met up with 4 other ultra athletes (from Canada, Germany, USA, Japan ) and we decided to do the new 90 mile bike heading north .. mmm. We set off down Alii Drive and went to Keauhou Bay – where the 6.2 mile swim will end. From there, we immediately have 4 miles of climbing before things even out on route 11 through the coffee district. We head out for 45 miles as if going to the volcano – quite a bit of climbing, good for the return! Hawaii differs from Puerto Rico (my home) as if you get tired or need to buy water, it can be kindofa long time until a shop appears.

We had to cycle 26 miles before reaching a wee shop in the Kau district near Manuka state park. The scenery was … LAVA and LAVA and BLUE OCEAN. On the return, I wasn't feeling too good and had to plod on for 35 miles before stopping at a coffee mill were the group chatted and drank lots of coffee. I felt fine but just had no power! The last 15 miles seemed like an eternity but, once over, I then had to climb 1500ft to were I'm staying!

November 14

The Queen K can be quite a daunting ride depending on the Hawaiian weather so my friend Conny and I decided to do the 'Starbuck Ride'. We started in Kailua-Kona with a Kona Peaberry coffee … just enough oof to get us 26 miles to Starbucks at Waikoloa. We stopped there and had a chocolate mocha brownie frappuchino (we guessed we could afford the calories! ) then, with heavy hearts and heavy stomachs, we set off to Waimea shopping center which was 26 miles away with an 11 mile uphill. Guess what we found there? Yep … STARBUCKS! This time we had lattes and pastries. How we ever cycled 40 miles home is a mystery to me but I was back to the Hammergel and sustained energy for cycling fuel.

November 16

Tom and I went to the Kings shops. Leaving Kona around 8.30am, we set off as the wind was picking up but we were out to have a good time …. until we passed mile marker 82 and the wind began to change. The 6 miles before the Waikoloa turn we had a wicked head wind. The palm trees were doing the hula! We grinded the last mile at 4 to 5 mph and were grateful to see the Starbucks. You know it's a windy day when the resident birds take cover and, when they try to fly for the crumbs, they go backwards! We left the kings shops and when we turned onto the Queen K, we were up to 25mph without even turning our cranks … that's how powerful the wind was. And this was a moderate day … the wind does get worse! Unfortunately, this wind only lasted for a few miles before shifting direction and hitting our bikes from the side and then head on … nice!

November 19

Here in Kona we are due a lunar eclipse tonight. As my competition gets closer, I'd be lying if said I wasn't getting nervous so anything to take my mind off that is welcome. Tomorrow I need to take my bike to be repaired as my new pedals – less than 3 weeks old – decided to give me a 100% foot rotation whether I liked it or not. They performed this deed as I was climbing up route 11 towards the volcano. I was with a good friend from Germany and we decided not to back-track to the bike shop in Kona but to go on to the city of refuge towards captain cooks bay – a 45 mile 'light' training day with cranky pedals! In the morning i swam with the masters swim group at 6am. Boy was I tired. It took me half the session to wake up. Then my host, Tom, and I went for a half hour jog on the old airport beach through a wee winding path surrounded by lava and a wild ocean. Before I set off on the bike ride, I went for 100% Kona coffee … this past week has taken its toll and I needed that caffeine kick. I've done the ironman swim in my new vibe Body Glove wetsuit, which is so snug and comfortable. I've battled 30 mph winds on the Queen K and tried to smile through these deadly gusts of wind … just like Natasha. Massages have discovered painful tired muscles … but I'm nearly there.
November 26

A quick note to fill you in on my tapering efforts in preparation for Ultra(wo)man .Well, it looks like I'm getting covering all the possible disaster scenarios beforerace day! I just love it when I am cruising at 50+mph on my bike, the speed is electrifying and I decide to apply a wee bit of pressure to the brakes and ca-boom the brake pads fly off the front! Aaagghhh! Take it easy … wobble with the bike … okay down to 45mph and dropping further … looks like I have to return up that beast of a hill and fix these brake pads!
I finally work out the brake problem and take off for a great 80 mile bike ride (my last long ride before ultra(wo)man. I decided to do quite a bit of climbing to get saddle time in. Just then, my bike shoes would not behave themselves and wanted to point east, west, anything but straight ahead. Well I refused to turn back and suffered with the inconvenience. Despite this, I am having a lovely time and 4 hours later I'm so glad I did this ride. At 2000ft up, the view is breathtaking. I could even see Maui. It was such a perfect day, the wind was behaving and I'm hoping for this kind of weather on race day as a tail wind brought me into Kona all the way for 26 miles down the Queen K!
I called in to Hawaiian Pedals to solve a few problems. Grant was great and the brake pads will NOT fall out again! He also kindly discovered that my new Look pedals – 3 weeks old – were defective and exchanged them. Then he ruined my perfect day when he told me I needed to buy a new bike helmet as mine was too old! Wow! These things have an expiration date and boy are the new ones expensive so now i look like an alien with the latest technology on my noggin! I sure look fast … I wish!
My last long ocean swim was the ironman course on Friday. Kailua was experiencing a nice 'little' swell and the ocean was not the clarity one is used to in Kona. Good job I do not get seasick and am happy with my goggles and wetsuit. My last long run was quite a mistake as on Sunday i set off for a short 4 mile run and ended up doing 10 odd miles as I miscalculated a turn. In Kona, every road is uphill or downhill and I found my self doing a nice little 3 mile up hill added to 1.5f mile uphill to where I'm staying! Did I say i was tapering? Oh well, there's always tomorrow!
Tom and Gordana, my hosts and crew whilst in Kailua, have been very kind to me and today we all went shopping. I have my A&D cream for saddle sores … might as well be prepared as it will be needed despite my new saddle! I have some Hawaiian tropic sunblock and aloe for the sun, my endurolytes and sustained energy for fuel, elastic self adhesive bandages to support any ache or pain whilst running 52.4 miles (fun) and snacky type food. I also collected camera film, spare parts for the bike, 2 sets of sunglasses … oh boy i really am preparing for my fifth ultra(wo)man!
That night, I went for pizza with my friend Chuck. As I was leaving the Kona Brewing Co (a popular watering hole for the locals and tourists) it was getting dark. I put the lights on my bike and veered out onto the highway and, would you believe it, a red car stopped right in front of me and, in broken English, I was asked if I was participating in Ultraman! It was a Korean and a German, both on the island to do their first Ultraman and they could not find the run course! 
I had to laugh as, all day, they had been cruising up and down the Queen K looking for what was right under their noses!

Competition begins on the 29th November. 
Suzy