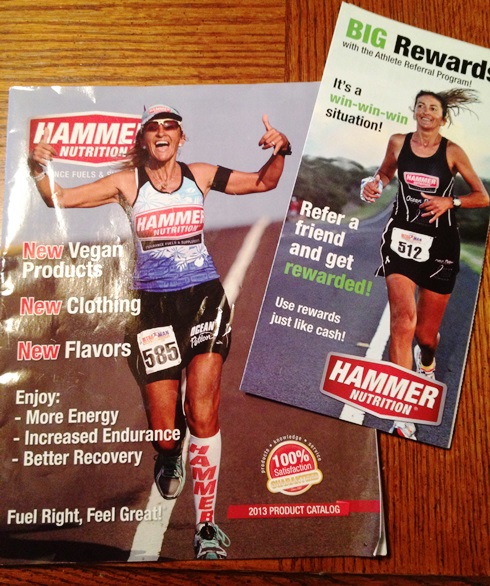 Wow hard to believe February is almost over! 10 months left to Christmas and I have not been very active on updating my page so I catch a spare hour to write my thoughts.
In 2013 I am hoping to have my book written, about my life, my thoughts and my racing. I am taking this year to focus on some personel issues and will just run more! Do a few smaller tris, and I already have a few motivational seminars booked that also include visiting different groups to teach about Healthy Heart usung a Polar Monitor and eating smart for racing and training using Hammer Nutrition Products.
I was super excited to have my photo which was taken by a great photographer and good friend Timothy Carlson on the front of the Hammer Nutrition Catalog 2013. It was captured at my 15th consecutive Ultraman Hawaii World Championships. It concludes my streak of Ultraman Hawaii which I am the only woman in the World to have 12 official finishes, 5 of which I won my age group and proudly wear the 5 gold Ultraman figures around my neck! the 3 I did not finish 2 were to swimming conditions but still finished the event unofficially and one was to the angry winds of the Kohalas! again finishing unofficially. I love the event and it became and always will be a huge part of my life! The photograph Timothy captured says it all!!
I also was lucky enough to have a cool photo taken by Rick Kent while I was swimming 6.2 miles and would like to share this photo too, do not have many good photos of swimming but I love this photo!!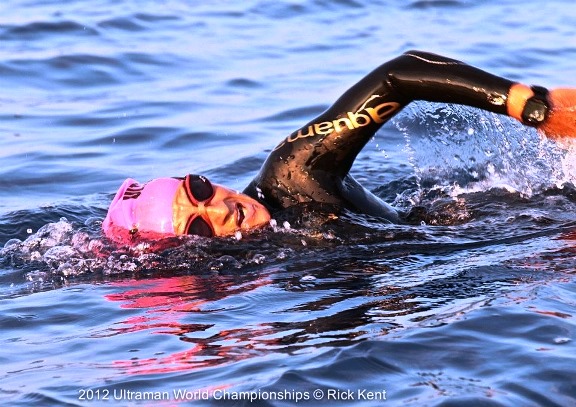 So December was full of Christmas preparation I did manage to do a 13.1 mile holiday run with Kool n Fit locally and had a blast despite running so soon after Ultraman polished off a respectable finish placing in my age group! 1 hour 41 minutes!