HOW RUNNING AND TRIATHLON HELPED SUZY DEGAZON OVERCOME ANOREXIA
Suzy, waiting for a relay runner and rocking her Brooks Running gear proudly.
The following is a post sponsored by Brooks Running . For our sponsored post policy, click here.
Need a little healthy inspiration? Well, pull up a chair and get ready. We recently had the chance to chat with Suzy Degazon, who once weighed a life-threatening 58 pounds due to anorexia and now healthfully competes in ultra-marathons and triathlons. Suzy has an incredible story and is a Brooks I.D. member. Brooks I.D. stands for "Inspire Daily," and Suzy definitely does that!
INTERVIEW WITH SUZY DEGAZON, WORLD CLASS ULTRA TRIATHLETE
FBG: You have been a Brooks I.D. member since 2009 and have been with Brooks Running since 2005. What does being one mean to you?
SD: I take pride in it. I try to inspire daily in the way I live and the way I do things. I am no stranger to adversity as I have lead a life filled with challenges. To be an I.D. athlete for Brooks has given me the confidence to inspire others who are also filled with challenges daily, no matter how small or how big. More importantly, when I am having a bad day (and, yes, I get bad days!) I remember that I am pretty lucky to be able to participate in sport and be a role model to many others, and that the day will pass and tomorrow will bring a fresh start to Inspire Daily! No one has a perfect life, and sometimes it is good to hear another perspective. Brooks I.D. gives me that confidence.
FBG: You've gone from suffering from anorexia to doing triathlons and ultra-marathons. How did you make that switch and get truly healthy and fit?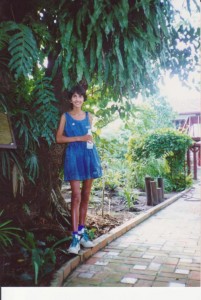 SD: This is not an easy question to answer! I spent 10 years of my life in and out of psychiatric wards and hospitals, and, ironically, I was a professional pastry chef working in some of the finest five-star hotels in the world. At school, I never liked sport and would usually be found in the music room and loved playing the clarinet. I always felt, growing up and doing gymnastics and dance with my friends and cousins, that I was a fairy elephant compared to their grace and coordination!
At 25 years old, I weighed 58 pounds—the scales ruled my life as did frequent visits into hospitals. My heart finally gave out, and I nearly died. I was put into a commune with other people with problems … My life turned around when my grandfather said he did not want to see me die in the commune…I thought I am not going to die! So I purchased a round-the-world ticket, got to 80 pounds, left the commune and hopped on a plane.
I went to Bangkok—my life was to begin! After backpacking through South East Asia and observing so much cultural changes seeing the World through a different perspective, I became a chef on scuba diving boats and Marlin Charters. When I returned to England, I was itching to get to a tropical paradise! So I went to the Cayman Islands. I worked on a liveaboard dive boat, and when it was docked for repairs, I found myself trying to run on the beach as I was putting on a little weight on the boat. Then through a series of incidents, I found myself swimming to the shores of Boqueron, Puerto Rico, late in the night as the captain of the boat I was on was trying to get frisky. Boqueron was to become my home for the next 13 years. I ran the miles of white-sand beach, and I was given a ladies' three-speed bike to use to get around. I made friends. And the next thing I knew I was doing a 10K run in Cabo Rojo! I won my age group, and there was a coach there. He thought I had potential as a runner, but I told him I was going to be a triathlete, as my friend Yetta had told me about a tri the following weekend. That day changed my life—my compulsive nature and energy was channeled into tris.
I was not rich; I lived in a wooden shack; I had bats in the ceiling and termites in the walls, but I called it home. I loved the sport and the rush it gave me. People were nice and they lent me a bike and gave me lifts to the races. When someone said women do not do Ironmans, I signed up for Vineman in 1994. That same year, I was involved with a car accident and had a cast on my leg. I finished that race second last in just more than 14 hours—but I finished.
Running and tris changed my life. I loved the freedom that sport gave me. It really was control—the only person responsible for getting to the finish line is ME! I urgently needed help in funding my new addiction, and in 1996, I signed up for a triple iron race in France. Crazy you think… for me it was the challenge! I had a home stay but was not to finish that year despite everything paid for by sponsors of the French race. In 1997, I went back and I finished a triple Iron race—7-mile swim, 336-mile bike and 78-mile run in 51 hours and 40 minutes. I was the last official finisher and 28th place and third female over all, but nearly 50 percent of the field did not finish. This was my most memorable finish—the whole town of Fontanil came out to cheer me to that last mile. Back in Puerto Rico, it was such a rush. (I could not walk for months properly!) I had never really trained for those distances, and when I was asked how I ran 78 miles, I just said "one mile 78 times!"
Sponsorship was SO important to me. I was using borrowed gear and shopped to get bargains. Without the sponsors, I could not have done what I did without the friendships I made. I am truly blessed to be able to share my story. I am a World Class Ultra Distance Triathlete. I have been ranked No. 1 in the World and the Champion of the Americas in double and Triple Iron racing. I have been the Puerto Rican National Champion for Triathlon in 1999. I have DNF-d in a few key races, and taken the disappointment and made it into lemonade, hoping others can learn. I also am the ONLY woman in the World to do 15 consecutive Ultraman Hawaii World Championships— officially finishing 12, winning my age group five times and placing second female a few times. Six years ago, I was married to a wonderful guy, Al Wiscovitch— he is still my wonderful husband! I am now a step mom to four and have an adorable granddaughter called Abigail who is the apple of my eye. I also have a running mini pin named Hammer.Healthy and feeling good, race medal in hand.Ultra Running and Triathlons changed my life for the better made me a healthier person and a happier person. I will never be rich but I am rich in doing what I love rich in health and happiness you cannot put a price on that.
FBG: Many woman get obsessed with counting calories or fat grams—or just with the number on the scale. Any advice for them?
SD: Counting calories, weighing out food, I say throw away the scales stop looking at the numbers, as that is not a healthy obsession. I still to this day have a hard time getting on the scales. I wear certain clothes and if they fit tight, I am doing something wrong….it is more important to eat healthy and feel great. The numbers on the scales do not reflect how healthy you are as an individual. And not all calories are created equal.
FBG: How has running changed your life?
SD: Running and doing multi-sport changed my life for the better, as my psychiatrist was quoted on saying when he found out I was doing much better… "Suzanna simply traded one compulsion for another!" Instead of focusing on controlling food, I began focusing on doing sport. It felt good, and running would build bone mass. I slept better; I looked healthier. I started winning my age group and, as I was winning races, I began traveling as an athlete and the sport took me all over the world. I felt I belonged to a special group of people! Running empowers; it makes me feel strong and makes me feel good!
FBG: What's the one thing you wish you could go back and tell your younger self?
SD: DO not take life so seriously, what will be will be. Not to worry about the things we cannot change.
FBG: Do you have a favorite race experience or moment? What is it and why?
SD: When I finished in third place at the Defi Mondial de l'endurance, a triple iron distance race, the whole village came out to run the final 100 meters with me. I had TV cameras, and it was just magical. I became the ninth woman in 10 years to finish the event
FBG: What's your favorite Brooks Running shoe to run in?
SD: I love my Brooks Cascadia and have worn them for trails and road ultras! I also love my Ravennas.
FBG: What's the best piece of advice you ever received?
SD: Never look back!
FBG: Anything else you'd like to add or tell our readers?
SD: I had anorexia nervosa. I am the 1 percent that survives. The ordeal I went through….it made me who I am today and it gave me a greater appreciation of life. I try to live every day to the fullest and live with no regrets. I have made mistakes along the way, but they have made me stronger. Please check out my website and blog. I have had and still have a remarkable journey to take in! Life is too short!
Wow…what a story! Did anything from Suzy's experience resonate with you? —Jenn